SOFFIT FASCIA AND EAVESTROUGH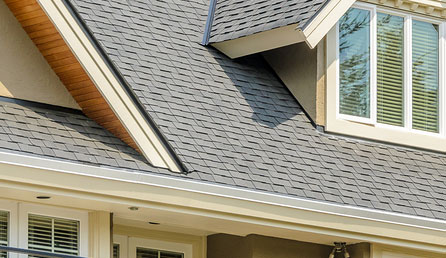 Maintenance Free Exterior Renovation Solutions in Central Ontario
We offer a variety of soffit, fascia, and seamless eavestrough solutions, each of which performs a particular function to help keep your roof in good condition. Soffit made from aluminum helps to provide airflow from your eaves into your attic, which helps moisture and heat escape out of your home. Aluminum fascia is the trim that protects the wood board at the edge of your roof. Finally, we also offer eavestrough, which is critical for directing rainwater away from your home or building's sides.
We use aluminum products, and, if installed properly, they won't have to be replaced unless you want to change colours. They're also very durable. To get started with these or any of our other services, contact us today.
Keep leaves and debris from clogging up your eavestroughs with the Alu-Rex Gutter Clean System® installed by our professionals. These guards are installed into your existing gutters so there is no need for costly replacement. Constructed out of sturdy aluminum this product stands the test of time, which is why it is one of the most popular gutter guard systems in Canada.
Why Choose the Gutter Clean System®?
Gutter guard diagram
Clog-free for 40 Years
Leaves, debris, snow and ice remain on top of the guard, your gutters will not clog leaving them functional at all times. This is only product that comes with a 40-year clog-free warranty.
Strong Aluminum Construction
Made of weatherproof aluminum, the Gutter Clean System® will not rust, crack, chip or warp even under the weight of snow and debris.
Four seasons Gutter Clean System
Even in harsh Canadian winters, the Gutter Clean System® will not sink into the rain gutter under the weight of snow or debris. If a rain gutter is clogged with snow in the winter it will not work properly. The Gutter Clean System® keeps gutters free of snow and ice so that they drain normally when it rains or the weather warms up.
Water Infiltration Prevention
During rain or winter warm spells, the Gutter Clean System® keeps the runoff water draining freely so that it will not leak into your home or pool on the ground below which can cause major damage to your foundation
Our Services
Siding
Siding is an attractive, durable, solution that eliminates painting and maintenance while ensuring your home's beauty will last for years to come.
Eavestroughs
Eavestroughs, also known as a rain gutter, protect your home from leaking roofs. They are important to have and prevent property damage. Our experienced staff are ready to help with your eavestrough installation and repairing needs.
Custom Aluminum Work
Do you have peeling paint or rotting trim around windows, doors, garage doors, exterior facing? Don't go through costly replacement or repainting - we can help. Refresh the look of your home by capping these areas in aluminum.