sIDING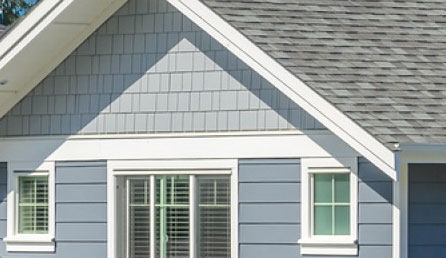 Vinyl, Wood, Steel & Cement Board for Your Home or Business in Peterborough
With a wide variety of styles and colours to choose from, Eggleton Aluminum Inc. can meet your siding needs. We can cover anything with our siding, whether you want it installed to give your home or business a new look, or if you want siding as a means of improving the efficiency of your insulation. We also install vapour barriers to keep out harmful and unwanted moisture. Check out the advantages of different sidings below, and then give us a call to get your free estimate on our services.
Vinyl Siding
The qualities of our vinyl siding include:
Affordability
Cost effectiveness
Maintenance free
Warranties available
Wood Siding
With wood siding, you might worry about the maintenance, such as painting or re-staining. But some qualities of our wood siding include:
Environmentally friendly
The wood we use is kiln-dried
Steel Siding
The qualities of our steel siding include:
Long-term warranties available
Wide variety of available colours
Advantageous for industrial use, such as auto shops, barns, garages, warehouses, fire stations, and more
Durability
Cement Board
A few of the qualities of our cement board include:
Specialty product
Environmentally friendly
More fire-resistant that other siding
Any colour available
Our Services
Siding
Siding is an attractive, durable, solution that eliminates painting and maintenance while ensuring your home's beauty will last for years to come.
Eavestroughs
Eavestroughs, also known as a rain gutter, protect your home from leaking roofs. They are important to have and prevent property damage. Our experienced staff are ready to help with your eavestrough installation and repairing needs.
Custom Aluminum Work
Do you have peeling paint or rotting trim around windows, doors, garage doors, exterior facing? Don't go through costly replacement or repainting - we can help. Refresh the look of your home by capping these areas in aluminum.